Welcome to THE GUIDE:
West End and Yaletown
A comprehensive directory to the pubs and clubs located in Vancouver's downtown between Stanley Park and False Creek.


---

HOME INDEX WEST END/YALETOWN GASTOWN/CHINATOWN OTHER AREAS GAY/LESBIAN EXOTIC RECOMMENDED BOOKS

---
The west end is dedicated to people watching, whether it be from a bar, coffee shop or restaurant. You will find some great chain restaurants such as Planet Hollywood, The Hard Rock Cafe, Hooters or Fogg and Suds. The west end is one of the most densely populated areas on the west coast of North America but the bars are few in number and are never too busy. People tend to really party in and around Gastown, only a short cab ride away. The west end is beautiful place for a walk, stop in to a restaurant for a great meal and a drink and then for a short walk to a lounge or pub.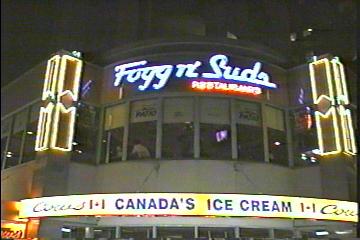 I have to make a few recommendations. One of the best hamburgers I have ever tasted has been at HOOTERS. The fringe benefits of scantily dressed women will titillate the average male but unexcelled personal service and great burgers make this stop a must. Yes, it is a family restaurant. FOGG AND SUDS boasts the best stock of bottle beers I have ever found. Visiting them on Monday evening, which is Mexican Madness night, provides you with excellent food and drink specials. Put that together with a patio, a view over Robson street and their willingness to make a great party for your group and you will have an excellent evening. For that small pub feel and a good view, you should try the DOVER ARMS PUB where you can also try some of the best perogies in the city.
Yaletown has found a complete rebirth in the past five years. It was once filled with factories and warehouses but now you can find restaurants, billiard parlors and the occasional bars. Yaletown is the in lace to be for yuppies and people up and coming who have some money. Microbrewries have appeared and are some of the best in the city.
Stargazing is unparalleled in the Robson district by all of Canada.The best spots are the hotel lounges where the stars are staying for movie shoots and for series work. The Sutton Place Hotel and The Pacific Palisades are the current hotspots with the Westin Bayshore a perrenial favorite. The GERARD LOUNGE and The MONTERREY LOUNGE should be given a try to see the likes of David Bowie, Antonio Banderas or Ashley Judd. Much of our film stars are only in town for a short time while the TV stars are here for longer but tend to stay in their own place as opposed to hotels.

---
WEST END PUBS AND CLUBS

BAYSIDE LOUNGE 1755 Davie 682-3546

B.C. MARINE CLUB 573 Homer 683-1720 Live original music

CACTUS CLUB CAFE 1136 Robson st. 687-3278

CASCADE'S LOUNGE 300-999 Canada Place Way 662-8111 Live jazz nightly

CHAMELEON URBAN LOUNGE 801 W. Georgia 669-0806 Live and taped music, hip hidden room

CHECKER'S PUB 1755 Davie 682-1831
Pint-4.40, Pitcher-13.50, HiBall-4.65, Limited Parking, NTN, Live music. This local lounge has a great Checker size beer (2 pints), good atmosphere and it is close to the beach. Upscale hotel lounge that cater to the locals. Worth a stop to play NTN and try an humongous drink.

DENIRO'S 1039 Mainland st. 684-2777
Pint-5.00, Pitcher-15.00, HiBall-5.00 DJ on the weekend with a stylin' feel to it (Fri. Old Funk and Soul, Sat. Hip Hop). Designated Driver program at server's discretion. This restaurant has a great patio but inside you will be enveloped by the oversized red leather benches that make up the booths. Here you will find a booth which can seat 10 people comfortably and be totally secluded because of the design. The bar is small but it is the $5 martini with 2 1/2 ounces of alcohol which tops off this upscale dining lounge. Only Delilah's near Stanley Park can create a comparative drink. Sit back in a booth, enjoy the food and have a martini. The people you will find here are in their 20's and 30's and tend to be a little dressy.

DOVER ARMS PUB 961 Denman 683-1929

FOGG & SUDS RESTAURANT 1323 Robson st. 669-9297
Pint-3.98, Pitcher 11.98, HiBall 3.98, Limited parking, Casual dining atmosphere, 150 bottled beers in stock, fish bowl drinks. Fogg and Suds has the largest stock of bottled beers I have ever found. There is a great view of Robson from the lounge or the patio. This would make a great stop on Mexican Mondays for the $1.99 Marg., $8.98 bucket (3) of Corona and the Mexican food specials. The friendly staff make this a place to party.


GARDEN LOUNGE 1601 W. Georgia

GEORGIA STREET BAR AND GRILL 801 W. Georgia 602-0994 Live jazz, no cover


GERARD LOUNGE 845 Burrard


MONTEREY 1277 Robson 684-1277 Lounge/Grill Live music

ODYSSEY 1251 Howe st. 689-5256 cover, mostly gay, go-go boys

PANAMA JACK'S BAR AND GRILL 1180 Howe st. 682-5225
Pint-4.25, Pitcher-14.00, HiBall-4.25. Pool tables, Darts, Video at bar. This sports bar has a friendly upscale atmosphere which welcomes everybody. The games bring the people in but the staff keep the regulars here. Expect to find some great food and to pay for it. Wing Wednesday is .35 per wing.

PLANET HOLLYWOOD Robson st.
Pint-3.95, Pitcher-13.00, HiBall-5.09. This waiting lounge located in the restaurant is worth a stop to anyone who likes the movies. The bar has no waitress so go to the bar yourself. The walls are jammed with memorabilia so bring the family and try the food in the restaurant. Prices can be high but the decorations, the atmosphere and the videos can make this a great stop for lunch. They can book for party's from 15 to 400.

THE ROOF 900 W. Georgia 684-3131

THE SOHO
Pint-4.00, Pitcher-11.75, NO HIGHBALLS. This billiard hall serves beer at the front. One of the first billiard clubs in Yaletown where the atmosphere is not trying to be trendy. The art on the walls keep the person interested while having a snack and a beer. Pass through the glass doors to the back and find some of the best pool tables around.

SHENANIGANS Robson st.
Pint-3.40, Pitcher-10.80, HiBall-4.25(daily special $3). $3 cover on the weekend after 9:30. Dress code in the evening, parking in the hotel parkade, coat check, dance floor with top 40 dance music, Karaoke, pool, darts, great bathrooms with music to move to, No smoking section, Patio, food. This dance club is great when you come with a group. The outdoor patio is located right on Robson and is THE place to grab a beer and watch people go by. Excellent ethnic mix, very fun asian crowd in the evening where everyone is welcome.

ST HELEN'S Granville st.
Pint-3.00, HighBall-2.50. Dance floor, Live country music, off sales, bathrooms (2). You will find this budget country tavern in the heart of downtown. This is different from any other bar around here from the paintings of Ernest or Dolly Parton on the walls to the people who are living works of art. Here, you can come in, get the cheapest beer downtown and always find someone to talk to. This is definitely a budget bar and the patrons know it and embrace it.
"If you walk in to this bar, you will never forget anyone there. This bar could seem really bad at times but the people that run it can be the nicest people you could ever meet. This is a bar to meet people." Debbie T.


TRADER VIC'S 1601 W. Georgia

YALETOWN BREWING CO.
DJ on Thursday, Friday and Saturday. Good pool tables ( $2 per game ). Darts, Designated Driver. This restaurant and brew pub reflects the best Yaletown has to offer with style. Great patio and expect to find it's own brew on tap. Upscale restaurant with real service. Sit in the bar and see where the beer is brewed through glass windows. This can be a great place to take a date, enjoy a meal and a tasty beverage.


---

HOME INDEX WEST END/YALETOWN GASTOWN/CHINATOWN OTHER AREAS GAY/LESBIAN EXOTIC RECOMMENDED BOOKS

---
We at THE GUIDE can be reached at:
pubs_clubs@yahoo.com